August 26, 2023
Posted by:

Admin

Category:

Uncategorized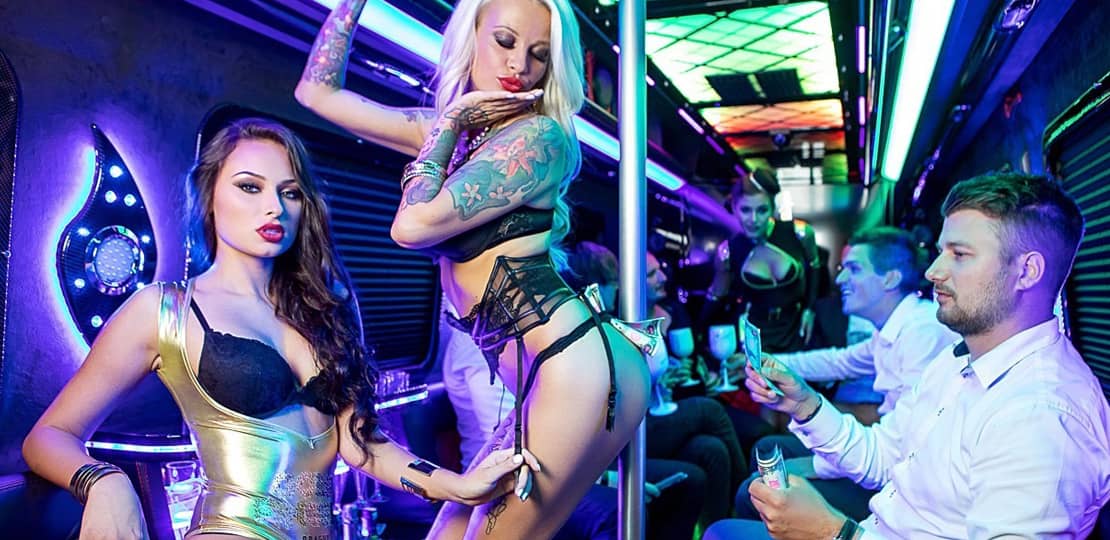 When planning for event celebrations or night out with friends, we are often limited to traditional venue options like bars, clubs, or restaurants. However, in the past few years, a new and exciting trend of celebrating has popped up that takes celebration to the next level. Yes! We are talking about – Party Buses. These rolling entertainment venues offer a unique and unforgettable way to experience parties and events while on the move. Having a wide range of amenities onboard, you can transform a simple journey into a full-blown celebration. Let's discuss a few of those party bus amenities.
A Moving Nightclub Experience
As soon as you step inside a party bus, you get transported instantly to a world of entertainment that rivals even the most vibrant nightclubs. The advanced sound systems and impressive lighting setups create an immersive audio-visual environment, setting up the stage for a dance party on wheels. Synced with the beat of the music, LED lights, strobes, lasers, and disco balls transform the bus into a nightclub on wheels. It creates an energetic environment that keeps the party alive throughout the journey.
Bars and Refreshment Stations
No party is complete without refreshments. Party buses take care of that with well-equipped bars and refreshment stations. In most party buses, you can find a fully stocked bar area with several drinks, including alcoholic and non-alcoholic options. You can even hire professional bartenders to serve guests their favorite cocktails. For those who prefer a more interactive experience, some party buses offer DIY cocktail stations where passengers can mix their own drinks. These party bus amenities add classiness to the celebration while keeping the energy high throughout the journey.
Dance Floors and Seating Arrangements
Space to dance is a must-have on any party bus. Most party buses have a spacious dance floor enhanced with dance poles for those who want to show off their moves. Along with the dance floor, comfortable seating arrangements are essential for giving passengers a place to relax between dances or engage in conversations. Plush leather or upholstered seating creates a luxurious and comfortable environment, allowing guests to enjoy the journey in style.
Entertainment Centers
Modern party buses often feature advanced entertainment centers, including large flat-screen TVs, gaming consoles, and multimedia players. With these party bus amenities, you can watch your favorite movies and TV shows and even play video games during the ride. Regardless of individual preferences, these amenities ensure everyone on board has something to keep them entertained.
Lavatories and Changing Rooms
Many party buses have lavatories and changing rooms onboard, ensuring a seamless experience. These party bus amenities are useful on longer journeys or during events that require multiple wardrobe changes. These amenities offer much convenience and comfort to the guests. It also allows them to freshen up without the need for frequent stops.
Theme and Customization Options
Party buses are highly customizable. You can tailor them to match the theme of the event. Whether it's a birthday party, a bachelorette bash, a corporate gathering, or a holiday celebration, you can easily customize the bus interiors to rhyme with the party theme. Such personalization creates a unique and memorable experience for all the attendees.
Party buses have revolutionized the way we celebrate by combining the excitement of a nightclub with the comfort and convenience of travel. Whether you are dancing the night away, sipping cocktails, or enjoying multimedia entertainment, party bus amenities transform the journey into a non-stop celebration. So, the next time you look to make an event truly special, consider stepping aboard a party bus.