September 9, 2023
Posted by:

Admin

Category:

Uncategorized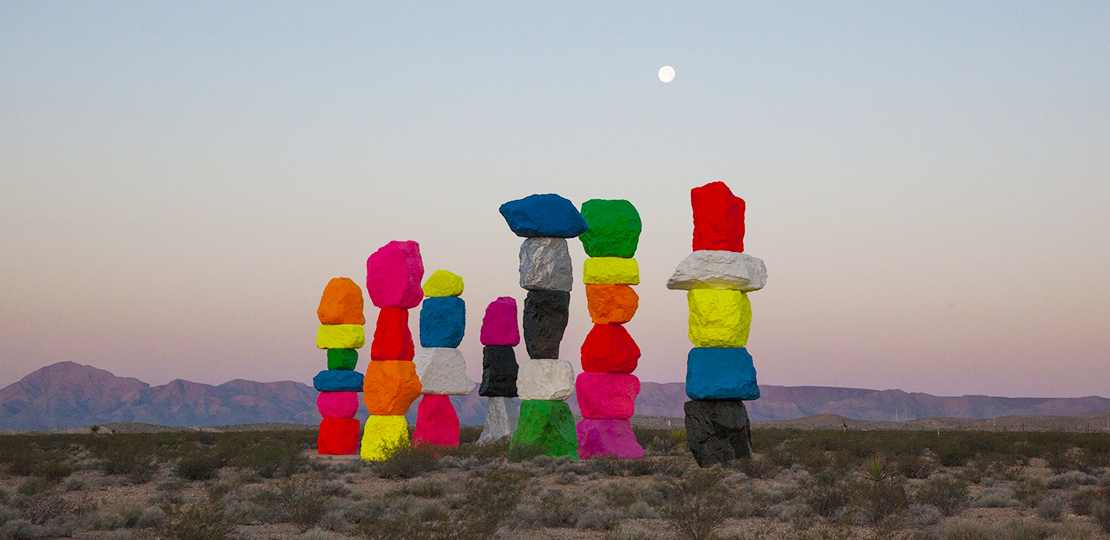 Located about 21 miles south of Las Vegas, Seven Magic Mountains is a public art installation located in the Ivanpah Valley. The installation consists of seven stacked boulders, each painted a different color: red, orange, yellow, pink, purple, blue, and green. The boulders range in height from 30 to 35 feet.
Seven Magic Mountains were created by Swiss-born artist Ugo Rondinone. The artist said that he was inspired by the natural beauty of the desert and the colors of the surrounding mountains. He also wanted to create a work of art that would be visible from the Las Vegas Strip. These mountains were first installed in 2016 and are scheduled to remain in place until 2027.
Planning a Day Trip to Seven Magic Mountains from Las Vegas
If you are planning a day trip to Seven Magic Mountains from Las Vegas, there are a few things you need to know.
The installation is free to visit and open 24 hours a day, 7 days a week.
There is a free parking lot on site.
The installation is located in a remote area, so it is important to bring sunscreen, sunglasses, and a hat.
There are a few different ways to get to Seven Magic Mountains from Las Vegas. You can drive, take a taxi or Uber, or take a guided tour. If you are driving, take Interstate 15 south to Jean, Nevada. The installation will be on your right.
If you are taking a taxi or Uber, simply tell the driver that you are going to Seven Magic Mountains. The ride will take about 30 minutes from downtown Las Vegas.
If you are taking a guided tour, there are many different options available. Some tours also include visits to other nearby attractions, such as the Hoover Dam or the Red Rock Canyon National Conservation Area.
Hiring a Party Bus for Seven Magic Mountains Tour
Hiring a party bus can be a great way to plan a day trip to Seven Magic Mountains from Las Vegas. Here are some of the benefits:
Party buses are a comfortable and convenient way to travel.
Party buses can accommodate large groups of people.
Party buses are equipped with several amenities such as a sound system, LED screen, and mini-bar.
Party buses can also be customized to fit your specific needs.
Party buses are pocket-friendly when traveling in a big group.
Here are some additional tips for planning a day trip to Seven Magic Mountains from Las Vegas:
Go during the week. The installation is less crowded during the week than on weekends.
Arrive early. The installation is open 24 hours a day, but the best time to take photos is early in the morning or late in the afternoon.
Be prepared for the heat. The desert can get very hot, so be sure to dress in light, comfortable clothing and bring plenty of water.
Take your time. There is no need to rush through your visit. Take your time to explore the installation and enjoy the scenery.
The Seven Magic Mountains are a unique and fascinating work of art. They are a popular tourist destination and a symbol of the Mojave Desert. Whether you see them as a celebration of nature, a commentary on society, or a work of art, the Seven Magic Mountains are sure to leave a lasting impression.